I JUST saw
this blog
, linked from a friend on Facebook. With the beautiful, organized, zen purse. So lovely. But, y'all, really? Am I the only one who's bag is a cesspool?
I didn't take the quiz, because I am sure it would say "Seek Help."
However, I dumped my bag. And I linked up. I know it is kinda too late, but this just struck me so funny.
Here it is.
My green B. Makowsky leather delight. Looks cute from the outside, doesn't it?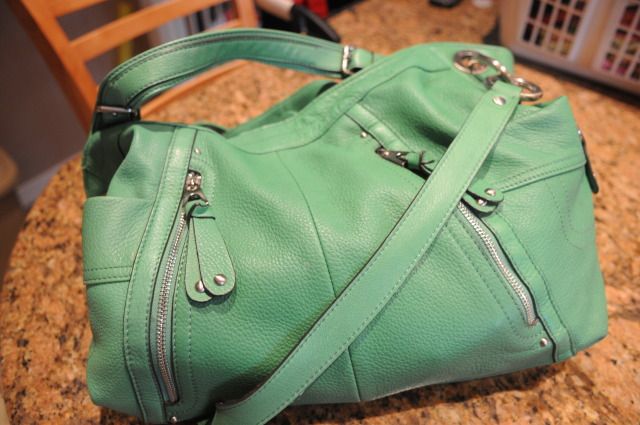 Observe:
Stuffed wallet that won't close.
Matchbox cars.
Old prescription paperwork from a month ago.
Two different bags of wipes. Because, duh.
A wafer thin Weight Watcher bar that got smooshed.
A taco bell sauce packet (holy hell, how has that not splattered?)
Fireman figure.
Hair band.
Random hair pin.
Safety pin.
Crumpled used tissue.
Crumpled receipts.
Cheerios, in a skuzzy bag.
Diapers. Just, loose. So my honey can get lint in her vajajay.
Baby toys.
Mascara and lipgloss, because I care how I look (not really)
Pen. red ink, annoying.
Iphone.
Grape skeleton.
Weight Watcher booklet.
Mango squeezie.
$1.92
Coin purse with nothing in it (oops)
Weight Watcher calculator with the back broken off.
not pictured - small pile of lint and crumbs, single raisin (i think it was a raisin, I hope it was a raisin) and because I got embarrassed (I know, NOW?)..crumbling cotton tampon out of its plastic casing. Niiiiiiiice.
SO there you go. AND, I stuffed it all back in there (minus the tampon, but including the old tissue. *shrug*). Ta da!